This is part 2 of our weekend getaway to Lancaster over the 4th of July 2016. Read Part 1.
The next morning we woke up ready to partake in even more eating! We were looking forward to the included breakfast spread at Amish View Inn, but first we enjoyed the morning views from our room.
We headed over to the main lobby area of the Amish View Inn where an included breakfast buffet is served every morning. The space they serve breakfast in is very large and comfortable with plenty of seats. The views also looked out onto the farm next door. Try getting a seat next to the window for breakfast with a view!
The breakfast was not your typical complimentary breakfast that is served at most hotel chains; first of all there was a made-to-order window for eggs, so you could get your eggs any way you like them! There were hot stations that had a variety of breakfast foods like bacon, sausage (local!), and sweet treats like pancakes, baked apples, and french toast.
Some of the specialty items that I really liked were the baked oatmeal and rice pudding. I tend to crave sweets in the morning, although I do try and balance it out with some eggs on the side. Baked oatmeal was like a warm oatmeal cake. Today it was flavored with citrus and bananas. You can eat this as is or you can pour some milk on it and make it into a cereal. Their version is vegan and gluten-free too!
Since it was Sunday today, many places around PA Dutch county were closed so if you happen to be visiting that day definitely make plans outside of the area, just so you're not driving around looking for something to do. The outlets were open but many of the more local Amish-run businesses were definitely closed including many restaurants However, Millers and Plain 'n Fancy are open!
I made plans to spend the morning doing a fun activity at the Turkey Hill Experience, which is about a 30 minute drive west from the Amish View Inn. You most likely have seen Turkey Hill ice creams and ice teas in your grocery store, and this spot serves as an interactive exhibit and tasting room. Definitely reserve a spot online if you want to do the taste lab experience – where you get to create and taste your own flavor of ice cream! If you don't get tickets to the "lab" you can still create where to buy lamisil your own flavor but it will be a virtual experience and you don't get to taste what you created! I highly recommend going with the lab experience especially since it's only 5 bucks more than the regular price (10 dollars without the taste lab, and 15 dollars with).
Here we are at the Turkey Hill Experience!
Once you get checked in, you have to confirm the time you reserved the lab. You are free to explore the exhibit part of the Turkey Hill Experience until your lab time begins, or you can always explore it after. I would say exploring the entire exhibit area thoroughly was about an hour and add in another 45 minutes for the lab experience.
The exhibit area is a cute interactive museum of sorts that shows you how ice cream is made, as well as some history of Turkey Hill. You can do silly things like milk a fake cow, which kids may find a hoot! But we were really there to taste unlimited samples of ice cream! The samples are included with all regular admission.
There was a section in the exhibit floor for Create Your Own Flavor, but this was the virtual experience which anyone can do. It was fun to see what the different bases and mix-ins were, and you could also name your new ice cream flavor, design the packaging, and record a small video ad for it!
Because of my love of Game of Thrones, I created a flavor that had a vanilla base, marshmallow swirl, nuts, chocolate and cranberries to give it a snow-y flair. I entitled it Winter is Coming, which I thought was very fitting.
It actually sounded pretty good so I was going to re-create this flavor in the lab when our session started! In addition to unlimited ice cream samples, Turkey Hill also offered samples of their various ice teas. We even tried some teas I had never seen before which was pretty neat. The Haymaker's collection had molasses and ginger as flavorings which really gave it an old-fashioned twist. I liked it a lot but I have not seen Haymaker's in a supermarket near us yet.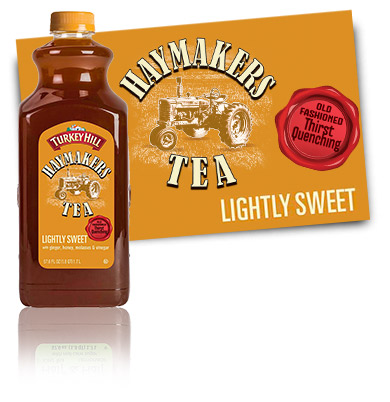 Soon it was time for our lab session! When our scheduled time was announced, we all headed into a separate room in the exhibit area, reserved for people with lab tickets.
Entering the taste lab:
We sat in a classroom style setting with barstools. In front of us were a bunch of flavor droplets and syrups.
We each received a pint of the plain vanilla ice cream base. It was actually really addictive and tasted like soft serve ice cream They told us to eat a bit of it because we'd be adding some mix-ins and we needed to make some room for it. No need to ask us twice!
We were first told to add in the "flavor" which is flavor essences that appears in the small droplet bottles. These flavor the ice cream but don't necessarily add any color. I used a chocolate base for mine while Steve opted for coffee.
Then we went up in groups to the Inclusion Wall where we could add as many mix-ins as we wanted too, although they recommend not to add to many as then there would be too much going on. I oped for pretzels, almonds, hazelnuts, chocolate, toffee chips, and dried cranberries. It was hard to contain yourself when you're faced with all this yummy-ness!
Then you head back to your table where you can swirl in any of the additional icings and flavors such as strawberry swirl, cake icing, chocolate syrup, peanut butter etc. I tried to stick with my original plan of only using marshmallow fluff to retain the white "snow-like" appearance of my Game of Thrones-inspired flavor, but I did opt to add some blue icing swirl to give it a blue tint. I don't think it showed up very well though.
We designed our own labels on a sticker and put it on our creation. Finally they took our ice creams and put it in a freezer for it to set a bit, although I don't think it did that much to harden it in the end. It's only going to end up in our bellies anyways!
Steve initially just had a face on his label, then he called it something like I Remember, which I said wasn't really catchy, so then he ended up re-naming his The Wall. He had a coffee base with chocolate chips, nuts and peanut butter swirl. He really enjoyed it and ate a lot of his ice cream while creating it!
We had a great time at the Turkey Hill Experience. I do recommend the taste lab though! Without it, it is more or less just an activity center with free samples. Kids (and adults!) would have a great time here!
Turkey Hill Experience
301 Linden Street
Columbia, PA 17512
Coming up, we visit a cave and eat more PA Dutch food!